March 1, 2021
See The Winning Inspirational Playlist
Congratulations to Olivia, the winner of the Inspirational Playlist Contest. Check out her playlist below or listen on Spotify!
Nobody Ever Told You – Carrie Underwood
Lessons Learned – Carrie Underwood
Cry Pretty – Carrie Underwood
Doin' Fine – Lauren Alaina
Stilettos – Kelsea Ballerini
Woman Down – Carly Pearce
Miss Me More– Kelsea Ballerini
Stronger – Kelly Clarkson
Whole Lotta Woman – Kelly Clarkson
OK Not To Be OK – Marshmello, Demi Lovato
Sorry Not Sorry – Demi Lovato
Confident – Demi Lovato
Crazy Dreams – Carrie Underwood
Softly and Tenderly – Carrie Underwood
The Champion – Carrie Underwood, Ludacris
Broken & Beautiful – Kelly Clarkson
Love Wins – Carrie Underwood
Fight Song – Rachel Platten
Fighter – Christina Aguilera
Brave – Sara Bareilles
I'm A Survivor – Reba McEntire
Fight Like A Girl – Kalie Shorr
Miss Independent – Kelly Clarkson
Born to Fly – Sara Evans
I Love Me – Demi Lovato
Thank you to everyone who entered and everyone who shared their playlists in the comments. We hope you all feel confident, happy, and inspired with all the song recommendations from your fellow Care Bears!
---
Share positive vibes this month by creating the ultimate inspirational playlist!
In anticipation of Carrie's upcoming album and to keep sharing the love and positivity, we want to see what songs inspire you. Create and share your inspirational playlist of songs that make you feel happy, confident, and loved for a chance to win!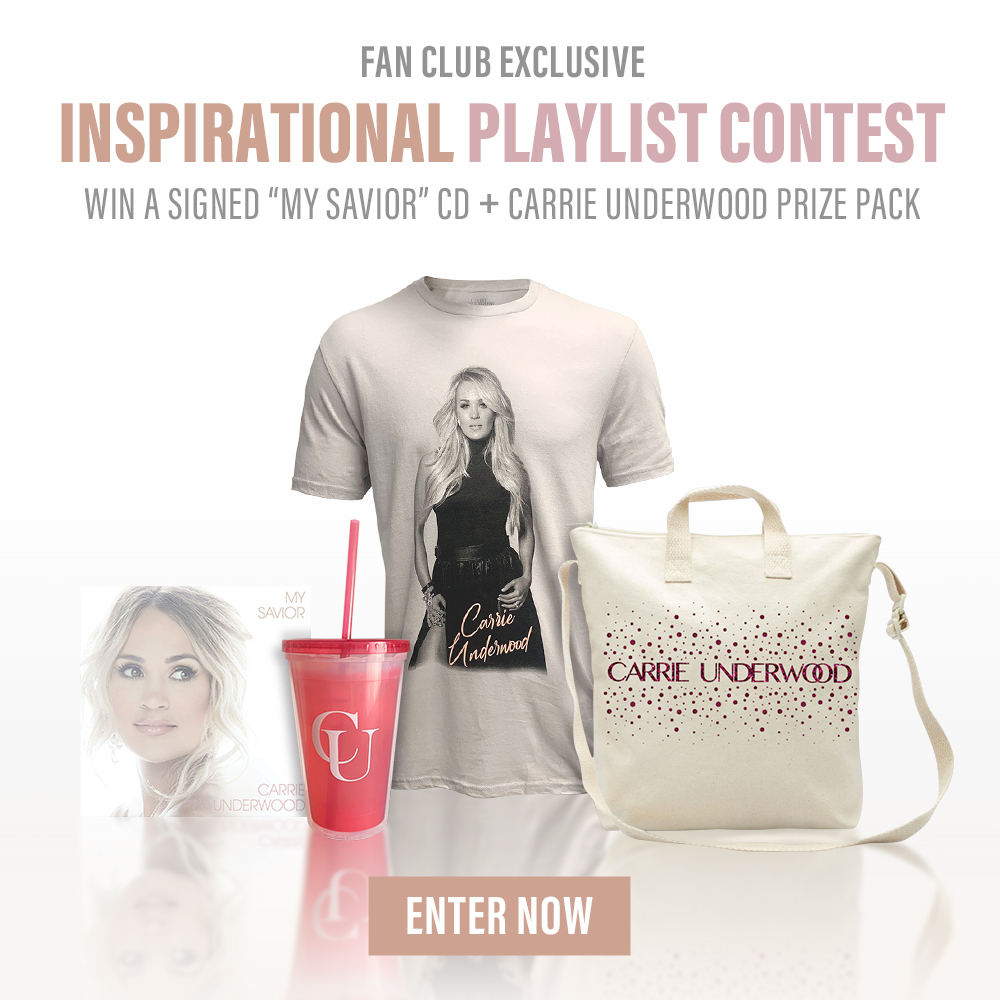 How To Enter:
Create your inspirational playlist on your favorite streaming service (Spotify, Apple Music, etc.)
Fill out the form below and share a link to your playlist. Remember to make your playlist public.
Feel free to also share your playlist in the comments below so all of your fellow Care Bears can check it out!
One lucky winner will receive an autographed My Savior CD, a Carrie Underwood Prize Pack, and their playlist will be featured on CarrieUnderwood.fm!
The deadline to enter is February 26, 2021 at 11:59 PM PT. Good Luck!
If form does not appear, submit your entry here.